Color Options for Traditional Hearth Pads
Choose from a wide range of hearth pad color and material combinations. Hearth Classics hearth pads are available in tile (ceramic & porcelain) and slate.
Traditional Hearth Pad Tile Color Options
Select from a large variety of tile colors that will look best with your stove and home. Looking for a more complex color combination? Add extra beauty to your stove while still providing great protection with a two-tone tile hearth pad.
** Current tile offerings are subject to change, and the actual color of tile may vary from the product picture. Tile shown in any lifestyle pictures may or may not be available. Product pictures below are samples and do not reflect the scale of the finished pad. **


The Travertine tile option has been discontinued.
Slate/Stone/Brick Color Options
Natural Cleft Slate is the most popular texture for slate flooring. The surface is moderately rough, giving your hearth pad a slip-resistant and very unique appearance. If you want a more earthen feel and antiqued look for your hearth pad, Tumbled Slate is a versatile material that aesthetically adds to the interior of any home. Choose our Used Brick for a traditional hearth pad look. 
** Color of slate, stone or brick will vary from product pictures as these are natural stone. Product pictures below are samples and do not reflect the scale of the finished pad. **
Custom Pads & Decorative Inlays
We specialize in custom pads. We can cut a hole for your pipe, make a custom size to fit your specific needs, use your tile to match the rest of your house, you name it. We also offer an attractive inlay that will draw all eyes to your stove. We can add an inlay to any tiled pad. Your options are endless.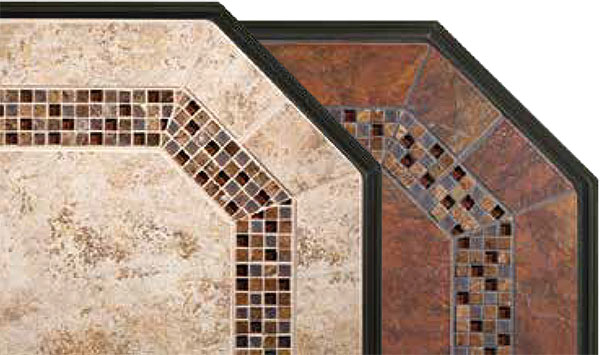 Pad colors in picture are no longer available. These pictures are for the purpose of showing the inlay.
What size of hearth pads are available?
Hearth Classics hearth pads are available to customers in several different shapes and sizes.
What frame styles are available?
There are two styles of powder-coated frames to choose from for the hearth pad.
What style of pedestals are available?
Pedestals are available in slate or tile.