Ember Defender Steel Hearth Pads
Our apologies in advance. Due to the availability and rising cost of steel, our Ember Defenders will fluctuate in price over the coming months.
The Hearth Classics Hearth Products Ember Defender has seen tremendous growth in the last few years and for more reasons than simply being less expensive. We build our Ember Defenders with a heavy gauge steel (10 gauge) to prevent bowing, a common issue, in addition to curling, that occurs with cheaper hearth pads. We also powder coat both sides. If your hearth pad does arrive with a scratch, it can be flipped over to what we hope will be a flawless finish.
Many customers move to this hearth pad, as it is easy to get along with in your home. Since it is only 1/8" thick, it is not a trip hazard, especially for an installation that may require your hearth pad to extend into a natural walkway. This is also helpful if your home has family members in a wheelchair or using a walker.
This is a Type 1 (Ember Protection Only) product and will not work if your stove requires the hearth pad to provide thermal protection. Fortunately, more and more stove manufacturers are building products that require Ember Protection.
NOTE: The steel hearth pads have two small holes (approx. 5mm in diameter) along the back edge due to the manufacturing process.
Type 1 Heat Protection
All wood, pellet, coal and corn stoves require a hearth protector.
Features & Benefits
Provides excellent Type 1 protection.
Heavy duty 10-gauge (1/8" thick) steel.
Listed to UL 1618 tested protection for your family's safety/security.
No removal of carpeting required.
Ground strap kit available if needed.
Manufactured in the USA.
Color Options
The Ember Defender is available in black only. The black powder coating has a slight texture and is applied to both sides. Either side can be used as the top if one side is not perfect after being shipped to your location. Please note in addition to being available in black only, the Ember Defender is available in fewer shapes and sizes than our traditional hearth pads. The front edge corners are rounded versus a straight 45-degree angle.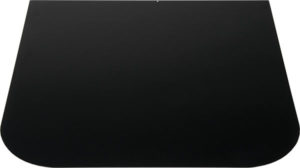 Shapes & Size Options
Our steel hearth pads are offered in the most popular sizes and shapes. Please consult your stove owner's manual to determine the clearance requirements of your stove. Your hearth pad dealer can then help you choose the most appropriate pad size and shape.
Update - Please choose from the shapes and sizes below. At this time we are only able to make standard and corner cut steel pads. Please do not order square or octagon shapes. 
| Extensions | A | B | C |
| --- | --- | --- | --- |
| 12 x 48 | 12 | 48 | 5 1⁄2 |
| 18 x 48 | 18 | 48 | 5 11⁄16 |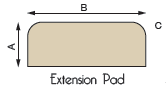 | Corner (SL) | A | B | C | D |
| --- | --- | --- | --- | --- |
| 32 x 32 | 32 | 32 | 12 | 39 1⁄4 |
| 36 x 36 | 36 | 36 | 12 | 44 7⁄8 |
| 40 x 40 | 40 | 40 | 12 | 50 9⁄16 |
| 48 x 48 | 48 | 48 | 15 | 60 3⁄8 |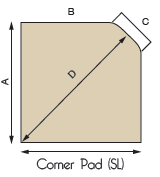 | Standard (DL) | A | B | C |
| --- | --- | --- | --- |
| 24D x 36W | 24 | 36 | 5 11⁄16 |
| 32 x 32 | 32 | 32 | 5 11⁄16 |
| 36 x 36 | 36 | 36 | 5 11⁄16 |
| 40 x 40 | 40 | 40 | 8 1⁄2 |
| 48D x 40W | 48 | 40 | 8 1⁄2 |
| 48 x 48 | 48 | 48 | 10 5⁄8 |